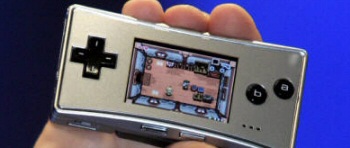 Nintendo has basically dominated the handheld market since the release of the original Game Boy in 1989. I remember when my cousin brought one from Japan, it was the greatest thing I had ever seen, and many happy hours were spent playing Tetris and Super Mario World on it.
Generations of Game Boys later, a little addition to the family comes along. The Game Boy Micro is Nintendo's new baby, and the third generation of the GBA hardware. When I saw the unveiling (or should I say, the un-pocketing) of the GB Micro at E3, I thought to myself "You have to be kidding me!" Seriously, I thought it was a joke.
Reginald Fils-Aime, Executive Vice President of Sales and Marketing for Nintendo, stated that the GB Micro "is not new technology, but it is a brand new look." This portable gaming device is aimed at "the image conscious consumer". It appears that this tiny wonder is trying to compete with the iPod Mini in terms of "coolness".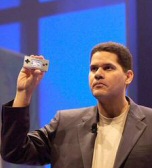 The GB Micro seems to be here just to remind us that it's not the size that matters, it's what you do with it. But what more can we do with it than play already released GBA titles on it? Nintendo bets on the "image conscious" gamer. But I'm betting on kids, because adults will probably have a hard time playing something on such diminutive system, especially if they have big hands. A friend of mine even told me that I should get a picture of his hands trying to play one (he's a tall guy, pretty big - not fat - with large hands). I'm sure it would be a frustrating task for him (and others like him) to press a single button at a given time.
In other words, we can expect the Micro to be the next cell-phone craze: we must have one to show off to our friends. It will turn into a social status kind of thing, into this "I have it and you don't" phenomenon that will make kids who own one taunt their friends who can't afford it. Because portable gaming has become a huge trend.
The cell-phone comparison goes even further with the custom faceplates. The official Japanese site already sports 21 of these covers in different colors and styles, but oddly enough none of them has a Nintendo-related theme. I'm sure fans would like to see some familiar characters on their faceplates. You can check those designs here: http://www.nintendo.co.jp/n10/e3_2005/micro/
But let's get a little technical, shall we?
To quote Fils-Aime, the GB Micro is "just a hair bigger and two-thirds the weight of an iPod Mini." It measures 4 inches wide, 2 inches tall, and 0.7 inches deep (approximately 10x5x1.8 cm), weighing 2.8 ounces (somewhere around 80 grams). The cartridges slide in at the bottom, just like the GBA SP.
The 2-inch screen is described as "the best and brightest screen ever put in a handheld", and the backlight offers adjustable brightness controls which makes it easier to adjust to outdoors and indoors lighting (something the GBA SP was lacking). I really can't see myself playing Final Fantasy Tactics Advance or Riviera on it (or anything else, for that matter). I mean, how small is the text going to be? Squinting to read isn't really healthy, and I already have a hard time in Riviera reading what it says in the small letters on the overdrive cutscenes. And if you really are that "image-conscious", you should care that squinting causes wrinkles around the eyes.
It has the same processor as a GBA SP and like the SP, it has a built-in lithium-iron rechargeable battery with a 10-hour life span. The GB Micro also supports standard headphones, so you don't have to worry about buying a separate accessory. Aside from the headphones port, there are two other slots, one for the battery charger and another to support link-cables.
The release in Japan is scheduled to coincide with Super Mario Bros.' 20th anniversary, on September 13th. The North American release will happen shortly after, on September 19th and the European release is set for November 4th. The price is set at $99 U.S. and it will come in two models - silver and black - and includes 3 interchangeable faceplates. New GBA titles will also be released at the same time.
The official word is that the Game Boy Micro plays all Game Boy Advance titles can. But Nintendo failed to mention if GBA Video titles, original Game Boy games, and Game Boy Color games will or not be compatible with it.
Let's be realistic here: how is this little guy supposed to compete with the PSP, when even the DS doesn't keep up? Recent statistics say the GBA has had more sales than the DS in North America. What they called a "pretty picture" at Nintendo's E3 press conference, isn't so pretty anymore. No wonder they already dropped the DS price.
Jim Merrick, Nintendo's Software Engineering Manager, admitted that "The Micro is simply repackaging the existing hardware into something more stylish." So why should we buy something that's exactly the same but only with a different look?
Nintendo needs a new plan, fresh ideas, no more Mario Kart, Golf, Tennis or Party, enough of Pokemon "insert color here". Maybe they need to find a new character to captivate gamers all over again. Maybe they could just release a new but old-fashioned 2D side-scroller Mario game. Or maybe, just maybe, they need to set new boundaries for themselves and think outside the "happy and safe" box.
With the release of this shrunken version of the GBA, has Nintendo also shrunk their expectations? They certainly did mine.