Didi: Hello and welcome to the first annual Gamer's Intuition Overhyped Electronic Entertainment WTF Briefing! (applause)
Didi: Today we would like to introduce you a series of titles that are obviously way better than those showcased by our competitors. But first, we wanted to share how well our sales have done compared to the previous year: a gazillion point seven titles have been sold since the last event! Look at the cool bar graphics and pie charts! How colorful and amazing is that!? And those numbers? Wow-wee! (applause)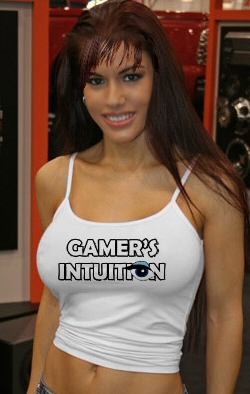 Didi: To continue this presentation, please welcome our most excellent booth babe, Bimborella, who will tell you about some of our upcoming titles in more detail! (scantily-clad curvy girl appears, applause, approval whistles)
Bimborella: HI EVERYONE!!! My clothes are so tight I can barely breathe, but it's ok! I don't mind being objectified! Also, I don't really play games, but who cares, I got cleavage! (crowd goes wild)
Bimborella: The first game I want to show you is Super Happy Fun Konichiwa Time. Typically Japanese and entirely typed in Engrish, Super Happy Fun Konichiwa Time has cute creatures, cute sounds, cute music, and we're still not sure what it does except being cute! It's so cute I'm gonna die! Oh wait, no, that's just oxygen deprivation from the tight clothes... (faints)
Didi: Moving on while our excellent boob host is unconscious, let's check out Infectified! Infectified takes place during the zombie apocalypse, which takes place during your brother's wedding, which takes place at your best friend's funeral. The teaser trailer shows your best friend rising from the coffin, eating the bride and groom and their cake, and walking out to the chaos on the streets. You must survive through stealthy actions such as not making noise and hiding. Tension builds up as you can hear your heart beat, which you control by the special arm band accessory that measures your blood pressure throughout the game! Fantastic! Scary! Disgusting! May bite your nose off! Look for it coming to every console available, including systems that are currently obsolete. And Bimborella is back, with the next two games.
Bimborella: And I'm now holding Stealthy Shooter Kablamo, an upcoming console game endorsed by Michael Bay. Its portable counterpart, Stealthy Shooter PewPew is just about the same but portable. In a smaller box. They're not very heavy. To give you a demo, here is Michael Bay himself!
Michael Bay: So Stealthy Shooter is a sneaking game where you blow shit up. With explosives. There are lots of explosives hidden throughout the game, and you can find them, pick them up, then explode things with them. Here is a car. I have explosives. I place explosives under the car, run away and BLAM BLOOM! KABLAMOSPLOSION! Watch the particle effects! KABOOM! Shrapnel goes everywhere! BLOOJ! (applause)
Bimborella: Yay shrapnel! Thank you Michael Bay! And now, back to our editor and host! I'll be licking this game box now. (crowd whistles in approval)
Didi: Alright! What an exciting show! I am so excited and happy to be excited, that I can barely contain myself! DIAPER PLEASE! No, really, just kidding. But I'm THAT excited! Check out the new features of Overhyped Home Console 2015. Coming in 2015, but we're overhyping it right HERE, right NOW!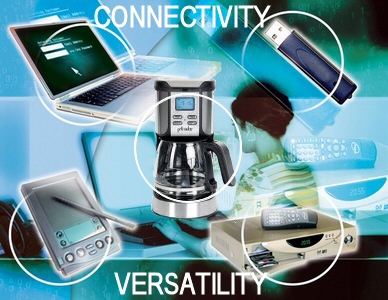 Overhyped Home Console 2015, codename Hypertrain of Incredible Awesomeness Plus, has all the features you can possible want in a console, handheld, home phone, TV remote and more. It allows you to play your game on your TV, save it and transfer to the handheld, while wirelessly sending status updates to your phone and wristwatch. The incredible versatility...
Bimborella: What's versatility?
Didi: It does stuff. A lot of stuff.
Bimborella: Oh cool, I like stuff!
Didi: A-hem. And with this wonderful insight by our booberrific babe, let's talk features! The portable game save lets you take your game from your livingroom to anywhere in the house, the country, the world, and possibly the moon if you manage to get there. Play it wherever you want: at a wedding, at a funeral, during the zombie apocalypse, on the toilet, while having a prostate exam, even while taking a dump at your best friend's funeral during your brother's wedding while the zombie apocalypse is happening! (crowd whispers among themselves)
Shout commands to your console directly from the shower via your home phone, and the system will filter any water noises automatically though the wireless microphone and command your coffee maker to pour you a cup of coffee. Manage your shopping list while preventing an alien invasion while at the grocery store! Grocery shopping will never be the same as augmented reality will create obstacles and spawn opponents all around you! You will be glad to go shopping with your wife from now on with the Overhyped Home Console 2015 mobile edition. (excited audience member yells out, "Hell yeah!")
Of course, we will have controller free motion-detection controls. And to show it, here's our guest speaker to show you how this works. Let's hear it for Sensor McPhail! (applause)
Sensor McPhail: Hi there! It's a pleasure to be here to tell you more about You'd Better Knot!, our realistic knot-tying simulation. All you have to do is move your hands as indicated on screen... like so... then... a little bit like this... and there, you have learned a new knot! (oohs and aahs across the room)The educational component is currently being tested by a very special QA team composed entirely of sailors and boy scouts.
Didi: Ah, I see, I see...
Sensor McPhail: Haha! I "sea" what you did thar! (audience laughs)
Didi: Indeed! It's "knot" like anything we've ever played before, and it surely roped us right in! What an interesting presentation, thank you Mr. McPhail. Take it away, Bimborella!
Bimborella: Please welcome the Barely Legal in Hot Pants dance team, as they present to you Wacky Waving Inflatable Flailing Arm Tube Man Dance Moves. Watch how they wackily wave their arms to the beat as the inflatable flailing arm tube man dances on screen! Look at the inflatable flailing arm add-ons, how wacky is that? Check out the wacky track list, did I mention it is pretty wacky? Fun for the whole family! Wheee! (waves her arms frantically, boobs jiggle a lot, crowd goes wild)
Didi: Alright, Bimborella! Thanks for the bouncyful demo, and the lack of wardrobe malfunction! Now, bacbk to serious matters. Hypothetically speaking, our visions for the future rest on massive amounts of revenue from features that are totally superfluous, as shown by colorful pie chart #2. It's colorful! It's pie! It's awesome and possibly delicious, just like our overhyped expectations.
We don't want to let you go without quickly going through our entire lineup, so you better be taking notes now, cause this is so amazing you won't want to miss a single letter! I mean, just look at these titles, they're so packed with awesome!
Super Happy Fun Konichiwa Time
Infectified
Stealthy Shooter Kablamo
Stealthy Shooter PewPew
You'd Better Knot!
Wacky Waving Inflatable Flailing Arm Tube Man Dance Moves
Fancy Final Delusion Universe Online
Awkward Quest: The Good, The Bad and the Wardrobe
Exercise for Attractive People: Naked Yoga
Battlefield of Duty: Gears of Halo Warfare
Princess Tee-Hee and the Nine Ballgowns
Didi: And there you have it, plenty of stuff for everyone in our first-class, superbly marvelous, exceptionally extraordinary lineup! And yes, we're that psyched about it! All of it coming to the Overhyped Home Console 2015 and its portable counterpart.
Don't forget to grab your DIY press kit on your way out, consisting of a blank notepad, set of colored ballpoint pens... Oh wait, we were supposed to give you those at the start... We hope you were at least taking mental notes! Anyway, the lovely ladies will be handing out Overhyped Home Console 2015 Codename: Hypertrain of Incredible Awesomeness Plus t-shirts, stickers and pins outside. So, good night everyone! See you next year! Please don't drool on the dancers on your way out!